Croatian National Tourist Bord traditionally organized for the 14th time in a row the Golden Pen awards and recognitions for foreign journalists and bloggers. This year the Golden Pen took place in Slavonia-Baranja region, precisely in Osijek in the period from June 12 to June 15. The entire program has also included 3 days long study trip and during trip journalists visited Osijek, Dalj, Erdut, Kopački Rit Nature park, Đakovo and many more attractive places in Slavonia and Baranja. Besides the Croatian National Tourist Board, as the holder and main organizer, this year's partners were the Tourist Board of Osijek-Baranja County.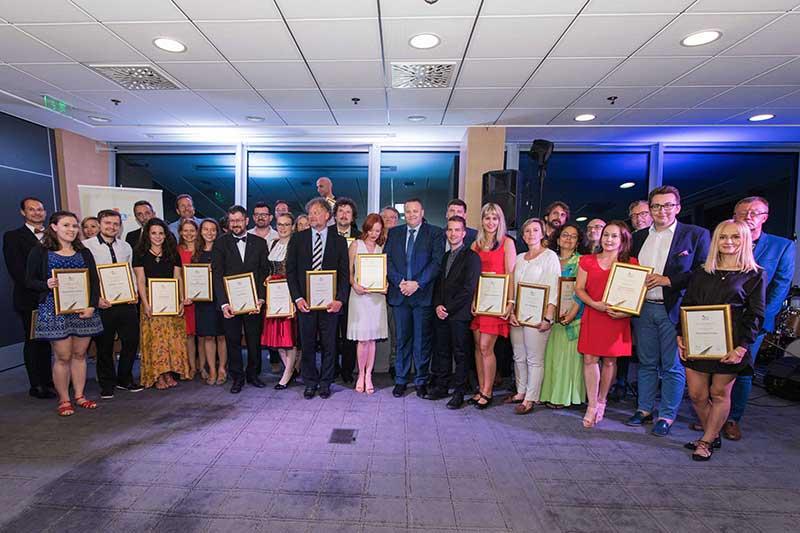 This year's nominations by category for the Golden Pen have been forwarded by the Croatian Tourist Board offices abroad, including the following markets: Austria, Belgium, Czech Republic, France, Italy, Hungary, the Netherlands, Belgium, Germany, Poland, Russia, Ukraine, USA, Slovakia,  Slovenia, Sweden, Denmark, Estonia and the United Kingdom. The awards are assigned for written material, for online article and blog, for TV and for the radio.  This year 29 nominations have been received, and more precisely 32 journalists and bloggers participated to the awarding ceremony and the accompanying program which allowed them to see and meet the hosting destinations.
Like each year, the most important award is the Grand Prix. The Grand Prix for the written material has been awarded to German journalists Christine Hinkofer and Beate Winterer from  daily newspaper Münchner Merkur. In March 2017 Merkur published the first of three reportages about Slavonia as 'Croatia's most beautiful secret'. In the article over two pages author describes Slavonia as a preserved and original destination with good cuisine, good wines and excellent hosts. The series continued with a reportage entitled 'Slavonia and the recipe for happiness' which came out in April 2017, and 'Croatia for explorers', published in October 2017.
The winners for the best tv material are Mojca Mavec and Mr Jan Vasiljević for Slovenian National TV – RTV Slovenija, for "Dobro Jutro". "Dobro Jutro" (Good Morning ) is the morning programme by the national TV channel RTV SLO and it is one of the most watched national television programmes.
The Grand Prix for the best  blog was awarded to Nina Ragusa, blogger from blog "Where in the world is Nina". She  wrote blog post  Architecture to Adventure: An Epic One-Week Road Trip Croatia Itinerary. In June 2017, Nina visited Croatia and on her blog she published a detailed and varied 7-day guide through Croatia which covered the regions from Pula and Plitvice Lakes to Split, Omiš and Makarska.
With the Golden Pen award, the Croatian National Tourist Board promotes the value of the professional writing about Croatia in foreign media,  and finally it is the opportunity to thanks the journalists  for their  informing about the positive image of Croatia as a preferred tourism destination  and their contribution in the promotion of the Croatian tourism in the world.