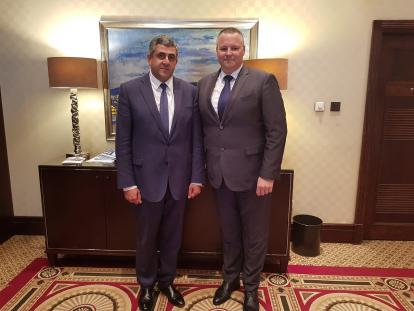 On the occasion of the 64th Meeting of the UNWTO Commission for Europe held in Zagreb, the Director of the Croatian National Tourist Board Kristjan Staničić met with UNWTO Secretary-General Zurab Pololikashvili with whom he talked about innovations in tourism, air transport, thematic promotions of tourism products such as food and wine, but also about the announcement of setting up a representative office of the Croatian National Tourist Board in Madrid.
"I think that now is the right time to open your representative office in Madrid," said Pololikashvili, offering his full support in the process of setting up the office.
"We are planning to open the office in Madrid in January of next year just before the FITUR fair, the largest tourist fair in Spain. Setting up a representative office is especially important for us because of the proximity of the UNWTO's headquarters, but also because of the growing number of Spanish tourists. Last year, they achieved approximately 290,000 arrivals and more than 640,000 overnight stays, which represents a 13 percent increase compared to 2017", said the Director of the CNTB, Kristjan Staničić, adding that the Spanish market is also important due to its connection with the countries of South America.
They also talked about the flight connections between Zagreb and Madrid, as well as about the need for a better flight connection between Spain and Croatia and between Croatia and China, which is strategically viewed as a very important and very powerful market for Croatian tourism. Moreover, they discussed the special promotion of food and wine tourism, which resulted in Mr. Pololikashvili inviting the Croatian delegation to participate to the 4th UNWTO Global Conference on Wine Tourism, to be held in Chile in early December 2019.
Speaking of tourism innovations, UNWTO Secretary-General praised the Croatian National Tourist Board eVisitor Sytem, which was awarded third place in the Innovation in Research and Technology category by UNWTO at last year's FITUR fair in Madrid.
The meeting was also attended by the Coordinator for Member Relations at UNWTO, Beka Jakeli, Director of Affiliate Members Department of UNWTO, Ion Vilcu, and State Secretary at the Ministry of Tourism, Frano Matušić.