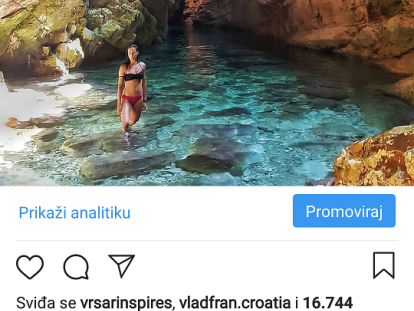 The Instagram account of the Croatian National Tourism Board recently achieved more than a million tags #CroatiaFullOfLife. The mentioned tag has been excellently accepted in key emerging markets, as well as amongst numerous fans of all age groups.
"We are particularly pleased with the constant growth in the number of fans on the Instagram social network which has become one of the most important promotional channels. More than 260,000 fans are currently following us on this social network, and the number is increasing every day, which also confirms the exceptionally large number of interactions which our posts and photographs achieve. The numerous compliments which we have received for the work on social networks represent a great motivation for us in the implementation of future activities", said CNTB's Director Kristjan Staničić, and with that inviting fans to use the GIF #CroatiaFullOfLife by Ivan Bošnjak on Instagram.
Upon the announcement of the millionth tag, the Croatian National Tourist Board has prepared a suitable gift package for loyal fans and a professional jury will, along with the help of the fans themselves, select the most beautiful weekly themed photograph under specified tags, in other words, defined categories. Amongst the defined categories and tags within which the gift package will be awarded is #CroatiaFullOfBeaches by which the most beautiful photographs of Croatian beaches will be selected, and for the selection of the most beautiful photos of nature, the tag #CroatiaFullOfNature has been created. Via the tag #CroatiaFullOfSunsets the most beautiful sunsets will be selected, whilst with the tag #CroatiaFullOfFlavours, the most beautiful photos of Croatia's superb gastronomic offer will be chosen. These are just some of the categories with which foreign and home tourists have the opportunity to show off their most beautiful photographs of Croatian beaches, towns, attractions and experiences.
The promotion of Slavonia on social networks
In the context of the numerous promotional activities which the Croatian National Tourist Board is carrying out on social networks, the realisation of the second part of the 'Visit Slavonia, Share Slavonia' project, in which popular bloggers and influencers from key emerging markets will visit Slavonian destinations, is planned for the beginning of September. Let's remember how the first part of the project was successfully realised in July when the programme included destinations such as Osijek, Đakovo, Vinkovci and Vukovar. At that time Slavonia was visited by 10 bloggers and influencers from the markets of Germany, Poland, the UK, Sweden, Belgium, the Netherlands and Japan, and the promotional releases about Slavonia were seen by about a million people on a daily basis.
The bloggers' travel and stay in Slavonia will be also broadcast live on the CNTB's social networks, and additional significance of the project lies in the fact that all of the bloggers, apart from the travel theme, are also specialised in other themes such as wine-gastronomy, culture and fashion.