The Croatian National Tourist Board has continued the long tradition and on 29 April 2016, for the 12th time in a row, presented the Golden Penkala awards and recognitions for the year 2015.
 
The ceremony was held in Split in the Diocletian Palace where guests had the opportunity to get a taste of one of the best preserved ancient complex in the world.  The award is presented to foreign journalists and bloggers for best media reports about Croatia and its tourist offer, in categories that include best written material, best blog content, and best TV material.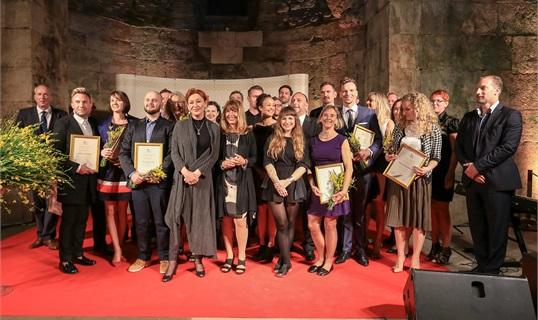 Media reports by foreign journalists and bloggers make a large contribution to the success of Croatian tourism, and presenting them with the Golden Penkala award is a way to thank them for highlighting the value of Croatian tourist offer and for the promotion in their own countries. The ceremony was attended by 29 foreign journalists, and a total of 13 reportages for written material, 8 reportages for blog material, and 6 TV reportages were nominated. The Grand Prix for best written material was awarded to Jean-Louis Tremblais and Eric Martin who are part of the French reporter team of the Le Figaro Magazine, and who have made a successful reportage about Sinj and the Sinj Alka event. The award for best TV material was presented to the German journalist Beate Höfener for the reportage about Istria that was broadcast on Westdeutscher Rundfunk Köln – WDR. Polish bloggers Agnieszka Kolasinska-Tyluś and Wojciech Tyluś, who write a specialised blog about Croatia, www.crolove.pl, received the award for best blog post.