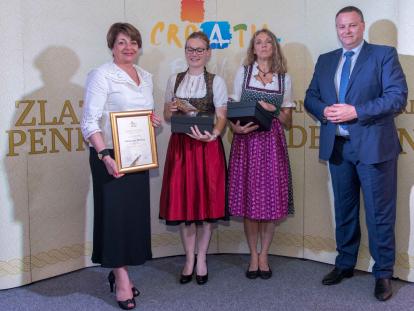 Golden pen, Christine Hinkofer, Beate Winterer
Grand prix
Germany
BEST WRITTEN MATERIAL
Christine Hinkofer and Beate Winterer from the daily newspaper Münchner Merkur. In March 2017 Merkur published the first of three reportages about Slavonia as 'Croatia's most beautiful secret'. In the article over two pages she describes Slavonia as a preserved and original destination with good cuisine, good wines and excellent hosts. The series continued with a reportage entitled 'Slavonia and the recipe for happiness' which came out in April 2017, and 'Croatia for explorers', published in October 2017.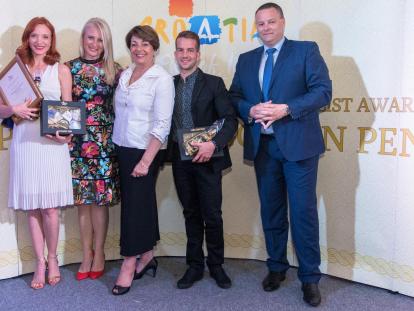 Golden pen - Mojca Mavec, Jan Vasiljević
Slovenia
BEST TV MATERIAL
Mojca Mavec and Mr Jan Vasiljević for Slovenian National TV – RTV Slovenija, for 'Dobro Jutro''. Dobro Jutro' (Good Morning ) is the morning programme by the national TV channel RTV SLO. 'Dobro Jutro' is one of the most watched national television programmes. Mojca Mavec is the multitalented leader of various television shows, from informative to entertainment programmes. In Slovenia she is most famous for the documentary series about travelling 'Čez Planke', about people and different parts of the world, which she has been working for on Slovenian television since 2001.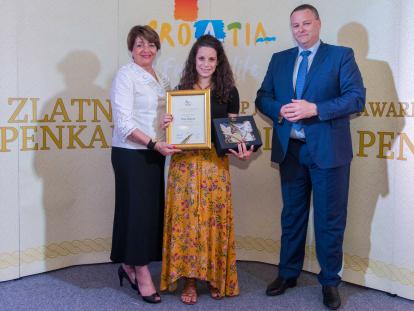 United Kingdom
BEST BLOG MATERIAL
Nina Ragusa blogger from blog Where in the world is Nina wrote blog post Architecture to Adventure: An Epic One-Week Road Trip Croatia Itinerary. In June 2017, Nina visited Croatia and on her blog she published a detailed and varied 7-day guide through Croatia which covered the regions from Pula and Plitvice Lakes to Split, Omiš and Makarska. Her trip was accompanied by excellent photographs which during her trip she published on social media daily. They were accompanied by the very positive reactions of her followers.