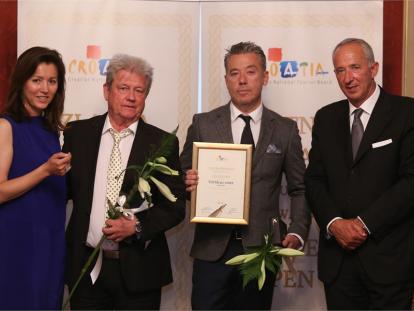 Grand prix
AUSTRIJA
Best TV coverage
Martin Traxl (director) has been the editor-in-chief of the ORF's cultural programme since 2007. He has received a number of Austrian and international prizes and awards. Lojze Wieser (author and host) founded the publishing company Wieser in 1987 specialising in publishing Eastern European literature, Wieser managed to build a bridge between Western Europe and countries separated by the Iron Curtain. The ORF series 'Der Geschmack Europas – Taste of Europe' explores the culinary cultures of the European continent – it is a tour of its regions and their cuisines, incorporated into the historic, scenic, geographical and cultural background. Lozje Wieser and Martin Traxl explore the various influences in the region left by the Romans, Italians, Croats, Slovenes, Istro-Romanians and last but not least the Austro-Hungarian Emperors. On their culinary adventure they discover the flavours created and drawn upon from various traditions of local cuisine and meet people who have mastered the fine art of transferring old recipes into modern dishes.
SWEDEN
Best written material
In 2010 in Paris the magazine 'Världens Viner' was declared as the "Best Wine Magazine in the World." To have such a reputable publication devote an entire issue to Croatia is a true expression of satisfaction. For the first time on the Scandinavian market, a specialized wine-magazine has made such an extensive exploration of what the wine-country Croatia has to offer. In the magazine, Croatia is for the first time on the Scandinavian market, presented as a premium enology-destination. Editor-in-chief, Johan Franco Cereceda, and Åke Jacobsson the publisher of the magazine, in their welcome speech at the presentation of the magazine and the introduction of Croatia as a newly-discovered enology-destination, commendably presented what was seen and tasted in Croatia during their visit. 
SPAIN 
Blog
Miguel Nonay is 53 years old and from the age of 3, when he suffered children's paralysis, he has had to use orthopaedic walking sticks and other auxiliary tools for walking and getting around. Miguel has always travelled where he wanted, irrespective of the accessibility. Three years ago he decided to convert his passion into work and now numerous world destinations invite him to help them discover the accessibility of their destinations. He is the editor of the blogs asaltodemata.com and viajerossinlimite.com. The nominated blog posts were filmed during Miguel's study tour to Zagreb, Kvarner and Istria in a wheelchair. These video blogs open the door to travellers with limited mobility, providing them basic information about accessibility in the destination in general, hotels, restaurants, transportation means, sports and active travel facilities, as well as other amenities.
AWARDED JOURNALSITS WHO WERE NOT ABLE TO ATTEND THE CEREMONY
GERMANY
Blog
Lena Marie Hahn is a freelance journalist. On her family blog www.family4travel.de which is dedicated to travelling with children she describes the various countries which she visited within an 11 month tour through Europe. In total she spent all four weeks in Croatia in the area from Istria to Dubrovnik. As a result of her tour through Croatia she published a detailed article on her blog, in an informative and useful way describing the destinations, travel with children, and the possibility of holidaying.written materialGero Günther works as a freelance author. He regularly publishes articles in various daily newspapers and magazines. In the winter edition of the magazine dedicated to travel Himmelblau a travelogue was published under the title 'Leuchtende Adria' ('The Glowing Adriatic'). The author visited three lighthouses: Sušac, Struga on Lastovo and Tajer on Dugi Otok and tells the readers about his impressions.CANADAwritten materialSarah-Émilie Nault is a travel writer from Montreal. She travels the world looking for new places to discover, beautiful places to try to capture and universal beauty. She was a teacher for almost 10 years before turning to journalism and travelling. Her article 'Viree gastronomique en Croatie' was published in Le Journal de Montreal about the gastronomy in Croatia.
USA
Blog
Kate McCulley is the successful author of the blog adventurouskate.com, aimed at the young female audience. Kate visited Croatia as part of the #ExploreCroatia project. An article under the title of Don't Let Croatia Slip Through Your Fingers answered some of the most frequent questions asked by individual visitors and suggests how to organise a visit to Croatia and what to see here.SPAINWritten materialKris Ubach is a photographer and lover of nature and adventure sports. Graduated in law she decided to work as a professional travel photographer. In the Spanish travel magazine 'De Viajes', in her 12 page article she explores the Croatian natural heritage, national parks, activities, gastronomy and the natural and cultural beauties of the environment in general.
SWITZERLAND
Written material
Ursula Egli since 2009 she has been writing as a freelance author for the magazine La Tavola where she's responsible for the travel pages. She visited Istria, where she was enchanted by the beauty of nature and the culinary offer. In its January and May issues, the magazine La Tavola introduced Istria as a region which seduces with its untouched beauty and excellent gastronomic offer. 
UNITED KINGDOM
Blog
Rupert Parker is a writer, photographer, cameraman and TV Producer. His special interest are food and travel, but he writes about everything from wilderness adventure to gourmet spa tours. On a press trip to Istria Rupert explored the region of Istria and wrote for the Huffington Post about the fantastic gastronomy that is on offer including truffles, olive oil, seafood and wine.